Familiar Collection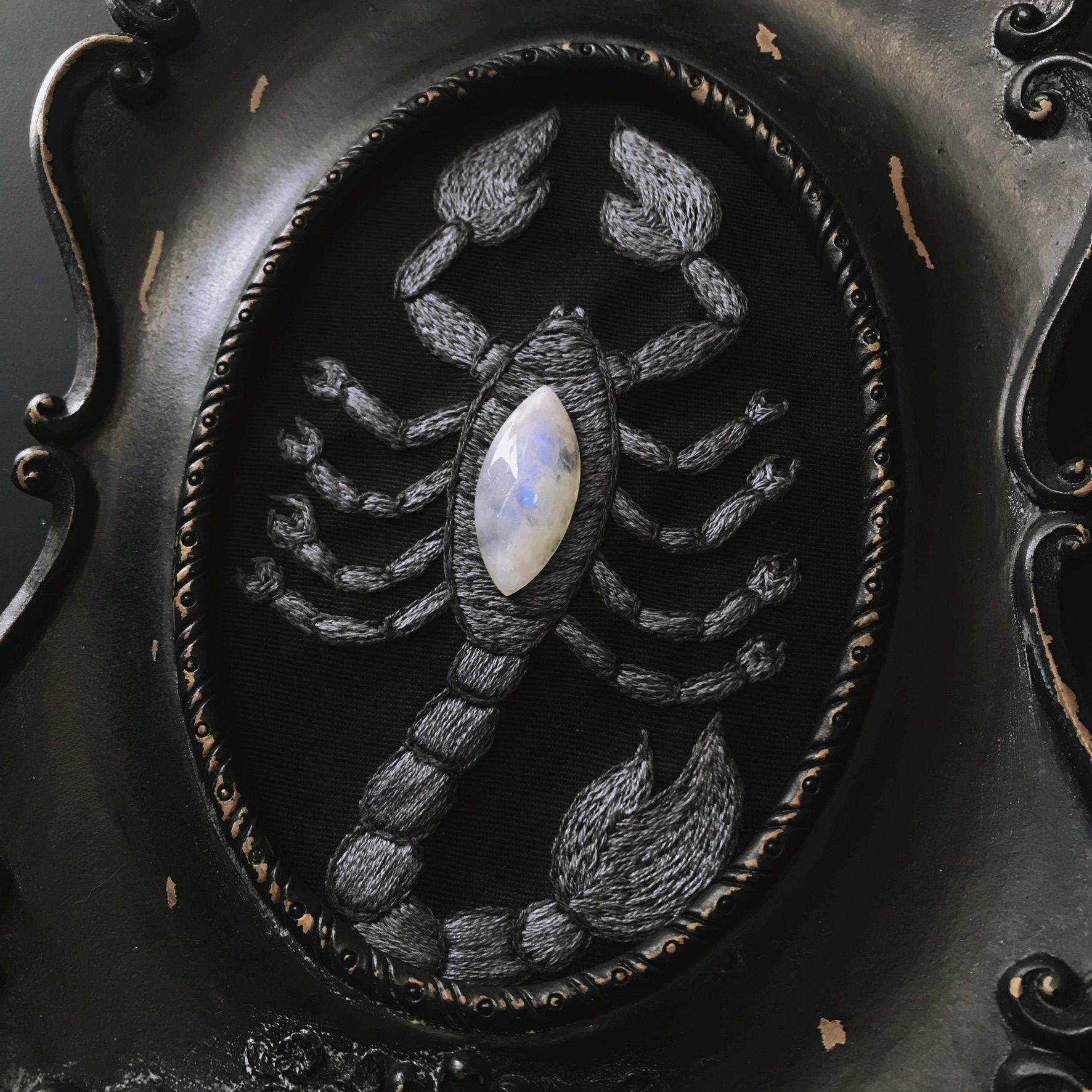 Moonstone Scorpion
Scorpion carrying a piece of the moon, in the form of luminous moonstone.
For me, some of the strongest symbolisms associated with the Scorpion is its affinity for the Shadow and its protective power & armour. It is an incredible symbol of self-reliance and resilience. It also represents sexual energy, poison, and transformation & rebirth.
The Ouroboros
The serpent eating its own tail, the Ouroboros, is a symbol of rebirth, eternity, and immortality. Snakes shed their skin and are born anew. Many cultures have drawn a parallel between the serpent and the umbilical cord, further cementing the relationship between the serpent and Life. Others see them as a guardian of the underworld, due to the fact that they nest in cracks and holes underground.
Serpents are also found in numerous creation myths around the world, like Nüwa or the Rainbow Snake. Serpents have a connection with water (like the Norse sea serpent Jörmungandr). The inherent fear that snakes seem to trigger in humans means they may be seen as symbols of darkness or chaos (like with Jörmungandr, once again, or the dragon-serpent Níðhöggr, who chews on the roots of the World-Tree Yggdrasil, or the Egyptian deity Apep, or the snake in the Garden of Eden). The Garden of Eden serpent may also been seen as a symbol of wisdom.
The Serpent is a guardian, much like dragons and the rest of its kin, protecting treasure hordes and sacred places.
This Ouroboros cradles the Sun and Moon - divine duality, life and death, centered in an eternal return.
Otherworld Wanderer
The Swan is widely known to represent love, union, beauty, and grace. However, my most favorite associations are some it's lesser known ones — its connection to dreams, emotions, transformation, and water magic, to name a few. Swan is sacred to Aphrodite and Apollo. In Celtic lore, the Swan represents a kind of liminal being — one that traverses the borders between life and death, of reality and dreams, into Otherworlds.
Here, the Swan floats in a inky black pool under the full moon. Iridescent beads represent the gentle ripples of the water & the Swan stares ahead with its faceted black spinel eye.
Neptunian
Seahorses have long been representative of magic and mystery. They seem like a kind of shapeshifter — not quite fish, not quite horse, something a bit draconic. They have long been associated to sea gods and other divine beings across a number of cultures. Poseidon rode upon a chariot pulled by seahorses. To me, these creatures symbolize luck, dreams, transformation, soul travel, & the imagination. This black seahorse has an eye of grey moonstone and is surrounded by white coral, wispy aquatic leaves & pearlescent beads.